thinking_out_loud
13.03.2021
Variations of Gender and Technology Trouble by Cornelia Sollfrank
Technofeminism is based on two basic assumptions: 1) technology is not neutral and 2) technology is a highly gendered field. These presuppositions open up a field of questions, problems and related practices. Based on selected positions in theory and practice, the talk exemplifies some of the tensions and openings from which to rethink ways of encountering the current technopolitical crisis. Commoning here serves as a framework for the process of vision and implementation, of experimentation and evaluation, of responding to the contemporary condition by creating new forms, formats and formations and questioning them again.
https://stationofcommons.org/events/digital-commoning-practices
Feminist Hackerspace as a Place of Infrastructure Production
Feminist Hackers Make Noise, by Stefanie Wuschitz
Work in a (feminist) hackerspace relies on the circulation of knowledge and availability of hardware. In contemporary maker scene, the majority of these resources is created in male-dominated circles and handed over to female identified makers to act upon and appropriate. Attempts to reconcile the disbalance in gender participation with pink-colored microcontrollers only reinforced existing gender and cultural stereotypes. Instead of adding to the growing voice of critique of exclusionist and inclusionist practices, we take a critical stand towards feminist hacking practice itself: we look at what is produced by feminist hackerspaces. Using standpoint theory to analyze the experience of working with one particular self-organized group of feminist artists and developers, this paper looks at practice in feminist hackerspaces as a way to create and share essential infrastructure with female or transgender identified makers. We analyze patterns of mutual self-help through sharing and learning, and their role in creating feminist infrastructure.
>> read here
In this interview, Stephanie Wuschitz and Patricia Reis introduce feminist hacking as an artistic methodology. They discuss the relationship between gender and technology and explain how Mz* Baltazar's Lab aims at developing other imaginations of technology by consciously developing a community. They discuss the role of the space in developing that community and the importance of creating a safer space – both fostering engagement within the community and for the space, but also for reaching out to a wider audience.
>> read here
Feminist Hackspace —
an Interview
Conversation on gender in art and technology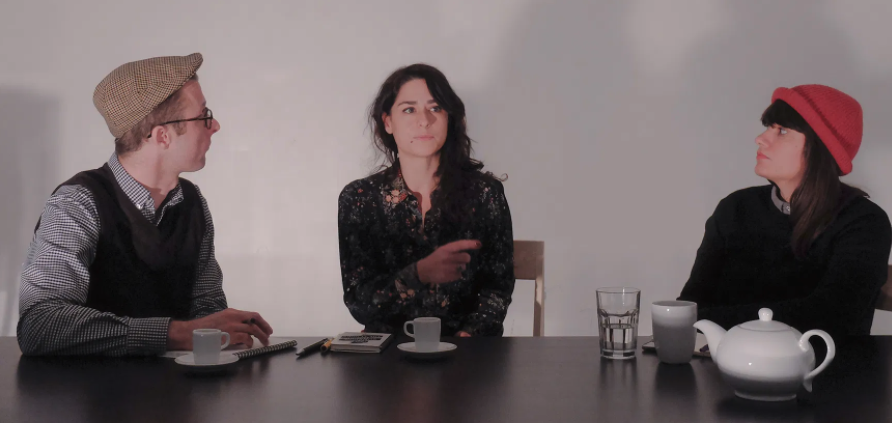 Andrew Newman from the RIAT Research Institute for Arts and Technology speaks to Patrícia J. Reis and Anna T. from Mz* Baltazar's Laboratory about the series of exhibitions that have taken place at Artistic Bokeh in Q21.
>> read here